Our Design-Build Process
When you go to your favorite restaurant and order a burger, the restaurant's waitstaff takes your order, a chef cooks the burger, other kitchen help may assemble the sides, and the waitstaff brings it all to your table for you to enjoy. The chef doesn't wait around for another company to put the burger on the bun and yet another company to come in and cook the fries, the restaurant staff works together as a cohesive unit to provide you with a great burger.
This is what the Design-Build process is all about: a single-source for the entire HVAC project. Designers, fabricators, and installers work together as a unit to keep your HVAC project on time and on budget. By having just a single point of responsibility and accountability, there's better coordination and cooperation which means there's no waiting around for that company to show up and put the burger on the bun.
Where We Start
Before we can begin to design an HVAC system for your building, we have to study the building. We examine the building's current loads, or in the event of new construction, its projected loads, building conditions, layout, space usage type, climate zone, specifications, etc. Calculations are made by our engineers to determine the type and size of HVAC system that is appropriate for the building.
Design
From there, we go to the drawing board. A custom design is drawn to satisfy the unique needs of each space. The design includes an accurate estimate of the cost of materials, equipment, and labor required to complete the job during the specified timeframe. We use Value Engineering which means we look for less expensive ways to do the project without sacrificing functionality or performance. Value Engineering provides the most cost-effective, energy-efficient, and low maintenance system for your building project.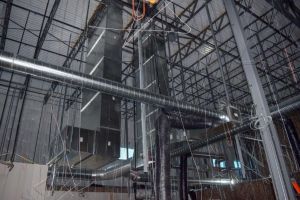 Project Implementation
Once the design is finished, our project manager takes charge of the project. Externally, the project manager takes a holistic approach to coordinating with other trades on site. This keeps the HVAC project progressing smoothly with respect to other trades' project timelines which prevents unnecessary downtime. Our sheet metal and pipe fabrication shops are each outfitted with state-of-the-art equipment that allows us to keep up with the most demanding schedules. These shops allow us to fabricate a wide variety of parts, on demand. With in-house expertise in sheet metal work, pipefitting, plumbing, electrical, estimating, engineering, 2D and 3D CAD, energy management, controls, service and maintenance, any issues that arise with the design can be internally addressed and coordinated quickly and efficiently.
When the Project is Complete
When the HVAC project is finished, you will have an energy-efficient system that was tailor-made for your building. Our relationship with the building doesn't simply end there. Your HVAC system is a major investment and it's important to keep it running smoothly and efficiently for years to come. A preventative maintenance program is the most important thing that you can do to ensure that you're getting your money's worth out of your investment and avoid paying for a new system in 10 years rather than 20 or 30. Regular maintenance keeps the system running safely and at its peak efficiency, reduces breakdowns and building downtimes, and keeps the units covered under their respective warranties.
Why Design-Build?
Imagine again that perfect burger you ordered. While you're waiting for that outside company to come in and put the burger in the bun, the burger is just sitting there getting cold. Not only is the quality going down, the cost is going up. That outside company incurs costs to send a paid employee in a vehicle to put the burger in the bun. When that outside company charges the restaurant for its services, the restaurant will have to pass that added cost along to the menu price. In this case, too many cooks in the kitchen make for an increasingly expensive burger, not just a cold one.
The benefits of the Design-Build process include:
An indoor environment that is comfortable and quiet due to an HVAC system tailored to your specific building.
Reduced first cost and reduced recurring costs of energy and maintenance due to Value Engineering.
Internal coordination between engineers, fabricators, and installers allows for fast decision-making i.e. changes to design and changes to implementation.
External coordination with other trades on the project team increases safety and quality while also reducing cost and shortening the construction schedule.
In-house fabrication means no waiting around for parts to arrive from across the country.
Reduced cost offers greater budget flexibility.
Single source means greater accountability.
Quite simply the Design-Build process was created to save time, energy, and money by streamlining the process. Our team designs the system, builds the system, installs the system, and maintains the system. It's performance-based with single source accountability.
At Jarrell, we may not be able to make you a great burger but our experts can design and build the right system for your space, all while keeping the HVAC project on schedule and on budget. Contact Jarrell today to find out more about how our Design-Build process can benefit you.